A single board computer (SBC) is a complete computer built on a single circuit board. These tiny PCs were designed to be low cost and energy efficient. As such, SBCs proved to be popular with hobbyists, DIY enthusiasts and educational institutions.
Upon the release of the Raspberry Pi, SBCs gained far greater attention. The Raspberry Pi was initially designed to teach basic computer science. The first-generation Raspberry Pi was released in 2012 and quickly surpassed expectations. It has since gone on to become the best-selling British computer of all time with over eleven million units sold.
Despite its popularity, the Raspberry Pi family of computers are not the only SBCs on the market. In fact there are a number of manufacturers making SBCs at lower price points and with more powerful hardware. If you're looking for a Raspberry Pi alternative, consider the SBCs below.
Beagle Bone Black
The BeagleBone Black is part of the Beagle Board family of low-cost, low-power computers. Originally released in 2013, the BeagleBone Black has undergone a number of upgrades. The current iteration, "revision C," boasts the following specs:
AM335x 1GHz ARM Cortex-A8
512MB DDR3 RAM
4GB 8-bit eMMC onboard flash storage
3D graphics accelerator
NEON floating point accelerator
2x PRU 32-bit microcontrollers
Ethernet
HDMI
The BeagleBone Black has the ability to run a variety of Linux distributions in addition to Android. The Beagle Board family of computers are also noteworthy due to their "cape" plug-in boards. These accessories allow users to quickly and easily augment the BeagleBone's capabilities.
ODROID-C2
As any SBC enthusiast knows, getting a fully functional computer onto a single board means sacrifices: minimal storage, lack of connectivity and underwhelming processing power. The ODROID-C2 aims to change this perception, as evidenced by its considerable specs:
Amlogic ARM® Cortex®-A53(ARMv8) 1.5Ghz quad core CPUs
Mali™-450 GPU (3 Pixel-processors + 2 Vertex shader processors)
2GB DDR3 SDRAM
Gigabit Ethernet
HDMI 2.0 4K/60Hz display
H.265 4K/60FPS and H.264 4K/30FPS capable VPU
40pin GPIOs + 7pin I2S
eMMC5.0 HS400 Flash Storage slot / UHS-1 SDR50 MicroSD Card slot
USB 2.0 Host x 4, USB OTG x 1 (power + data capable)
Infrared(IR) Receiver
The ODROID-C2 is a pretty powerful single board computer that can handle nearly anything you throw at it. It can be used as a home theater PC, a general purpose computer, for home automation, etc. With the ODROID-C2 you have the power under the hood to make it happen.
C.H.I.P.
The CHIP single board computer was launched via a Kickstarter campaign by Next Thing in 2015. It was advertised as the "world's first $9 computer." Many critics have drawn favorable comparisons between CHIP and the Raspberry Pi. However, many have noted that CHIP is significantly cheaper than the flagship Raspberry Pi models. Unfortunately, as of April 2017, the original CHIP is no longer available to purchase. The CHIP Pro is available featuring more powerful specs including:
1 GHz Allwinner R8 ARMv7 Cortex-A8 processor
512MB of RAM
4GB of storage
NEON SIMD extensions
Mali-400 GPU
Built-in WiFi and Bluetooth
There are plans to release a newer version of the CHIP, dubbed v2. Next Thing has remained tightlipped regarding this newer version. However, the Allwinner R8 processor will be replaced with Next Thing's own GR8.
Banana Pi
First and foremost, the Banana Pi won't win any points for creativity in the naming department. Despite this, the Banana Pi family of single board computers are fairly powerful for the price. Like the Raspberry Pi, the Banana Pi has a variety of different models. Most of the boards in the Banana Pi family are powered by a quad-core processor and feature built-in WiFi and Bluetooth capability. The most popular board is the Banana Pi M2 Berry. The specs of the M2 Berry are as follows:
Quad Core ARM Cortex A7 CPU V40
1GB DDR3 SDRAM
WiFi (AP6212) & Bluetooth built-in
SATA Interface
4x USB 2.0 ports
1x USB OTG port
HDMI port
Audio jack
DC power
One thing worth noting is that even though the Banana Pi takes design cues from the Raspberry Pi, the Banana Pi is powered by a barrel plug instead of micro USB. This means that you may have to shell out a couple of extra bucks to buy an adapter. If you're interested in getting one, the Banana Pi website lists Tiny One Systems as a US retailer. Alternatively, they are readily available on AliExpress.
Arduino
The Arduino is a tiny computer that was developed to be used as a micro-controller. This means that it can be programmed to do something based on some sort of input, e.g. a key press or flashing LED. Its simplicity and ease of use quickly made it the go-to single board computer for hobbyists and DIY enthusiasts. The Arduino was originally designed as an inexpensive tool aimed at students without prior experience in programming. However, it has reached a much larger community who have used the Ardunio to be the brain of thousands of projects ranging from complex scientific instruments to everyday objects.
88% Off Arduino Enthusiast E-Book Bundle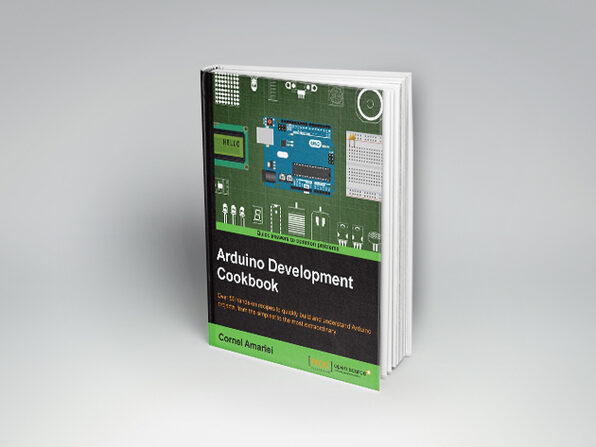 Whether you're a seasoned developer or an Arduino newbie, you'll find this ebook bundle useful for building amazing smart electronic devices. Start by building a sound effects generator using recorded audio-wave files you've made or obtained from the Internet. You'll then build DC motor controllers operated by a web page, slide switch, or touch sensor, and end by constructing an electronic operating status display for an FM radio circuit using Arduino.
Master This Popular Open-Source Electronics Platform with eight E-Books (1,900+ Pages) of project-based instruction. 88% off the retail price of $253. Get it now!
There are so many different Ardunio products to choose from that it can be a bit overwhelming. Fortunately, Arduino makes it easy to find the best fit for your project by maintaining a handy comparison chart.
There are tons of single board computers on the market; we couldn't possibly cover them all here. Did we miss your favorite SBC? Let us know in the comments!
Is this article useful?